Events
---
---
Pinoy Flat Track, Origins
by Mel Aquino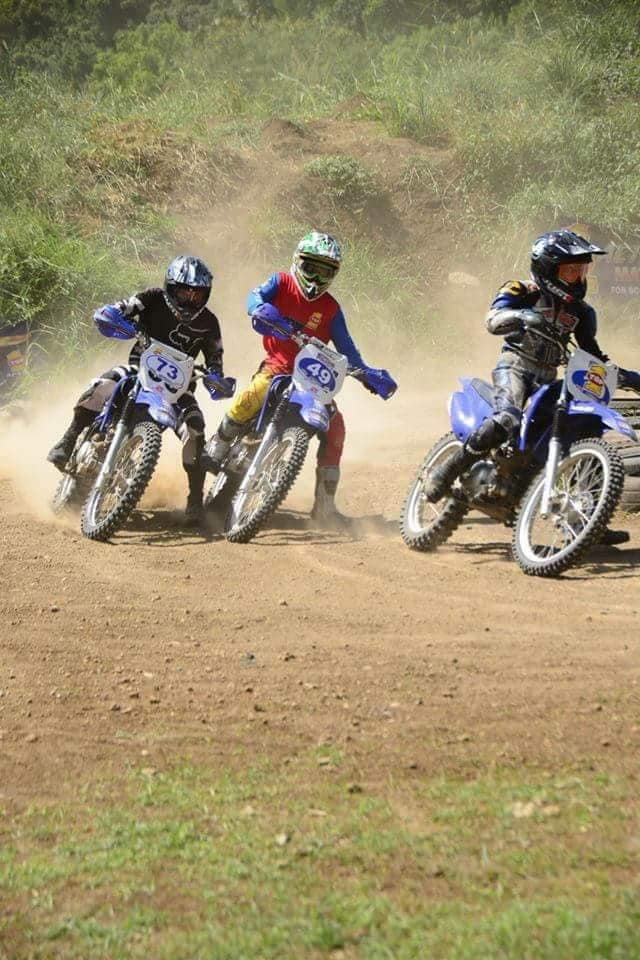 What started as a casual hangout of close friends, sharing a culture for motor cycling would go on way beyond what they expected of an ordinary barbecue session . Turns out this chance encounter would be a great way to showcase riding skills, be familiar with the culture, and to promote a unifying activity that would engage moto-heads and enthusiasts. Thus the Pinoy Flat Series was born. The 1st Pinoy Flat Track Awards Night was held in June 22, 2017 at Ropali Classics showroom in Ortigas, Pasig City and was co - presented by: ENEOS, the no. 1 oil in Japan was a huge success! ENEOS will go on to be a vital partner of MAYOTC for 2019.

For many years, there has been no consistent flat track races held in Luzon area, as a result, our Pinoy Flat Track paved the way to a regular flat track season anticipated by newbies and patrons. The first half of Pinoy Flat Track series would mark the transition from MX Messiah Fairgounds, Taytay, Rizal to its new hub in KRB Offroad Track in Barangay Inarawan, Antipolo City. Henceforth KRB would see record breaking attendance all eager to experience unparalleled grit and exhilarating extremes.

KRB would also see the likes of veteran riders alongside their heirs apparent all taking to the dirt road and all leaving enduring legacies. 2019 marks the inevitable date of what is Pinoy Flat Track Season 4 leg 1 would see crowds of riders, pros alongside first timers. The day started busy with everybody gearing up for the Flat Track Day Practice, there where riders lining up for the pre- registration while sponsors took their time for the tent set up.

Expect the thrill of the tracks to get into your nerves as we bring you an even exhilarating experience. Through the grit and the mud Pinoy Flat Track aims to deliver an unprecedented episode in Pinoy motor cycling history as chronicled by Throttle Life News.

Flat track rooted in the country's love for motor sports and the dirt road, is now showing signs of broader appeal. The sport's resurgence is unmistakable during the 2nd leg of the 2019 Pinoy Flat Track held last March 24, at the Mitas KRB Offroad Track, in Antipolo city.

The 2nd leg of Pinoy Flat Track 2019 drew motocross pros, circuit riders as well as newbies taking to the dirt and sharing triumphs on the podium. Present during the event is the queen of Philippine motocross and gender pioneer Janelle Saulog, who was in full support of her daughter Jovy Saulog. Also in the scene were, Benjo Leyva, Rico Herero, the father and son tandem of Jeff and Joshua Navarro, Jolet Jao with daughters Jaja and Jobelle, JC Rellosa, Tata Roman Llaurente and Botchoy Castillo all giving their full support.

Presented by Throttle Life Events and Advertising together with Yamaha Motors Philippines along with Top 1 Oil this 2nd leg delivers yet another striking episode in the 2019 Pinoy Flat Track series and with the support of VS1/Mototek, Metzeler, Motoworld, Just 1 Helmets, SEC Motosupply, Artcom Advertising, Yrs Modifications, Tech Daddy Lights and Sound, Imprint Customs promises an even more exciting chapter. Giving all out support who provided our trophies was Sir Henson Hu along with category sponsor, Motorcycle City for the local 4 stroke category, Top 1 oil for the scooter category, YRS Modifications for Club's 129 and 137, TNOW and of course our XTZ 125 open of Yamaha Motors Philippines respectively.

Support in terms of publicity was on hand thanks to our media partners Pillion Riders, Lifestyle on Wheels, Rev Up Moto, Mototmag Phils, MCP, Fatboy Moto...and all our media friends who helped us promote the event!!! Sir Gilbert, Kuya Joey Storm, Zach Lucero of Makina, Michael Bucu of Ride PH, all eagerly anticipating the 3rd leg of the series.

The 3rd leg is set on April 21, 2019, prior to this, Ropali Classics is sponsoring a special race on April 14 also at Mitas KRB Offroad Track, registration is on April 13 at Rex Landing, Tanay Rizal during the Partakan 2019 Festival.

Full salute goes out to Meng Sevilla, Spike Maguigad, Darell Divinagracia, Roe Bautista, Mel Aquino, our registration angels Lorie Co, Nemabelle, Donna Alo, and our race marshals.

Hold your breath for a second! And see for yourself! See you!